Chat GPT AI: Time Saver for Microsoft 365 Sysadmin and User
Microsoft 365 is a suite of tools that includes multiple applications to help businesses and individuals stay organized, collaborate, and communicate efficiently. But with so many features available, resolving some particular errors in your Microsoft 365 tasks can be difficult. Chat GPT AI chatbot makes it easier for users. It helps users and admins provide solutions for their queries and allows them to take advantage of all the benefits of Microsoft 365.
What is Chat GPT?
Chat GPT AI is an open source chatbot explicitly designed to help people. It uses natural language processing (NLP) technology to understand your question and provide intelligent answers accordingly. Whether you seek advice on setting up a meeting or finding specific documents within your organization's library, Chat GPT AI will always have your back.
The best part about using Chat GPT AI is its ability to answer questions without human involvement quickly. Additionally, since this Chat GPT utilizes NLP technology, its responses are based on actual conversations rather than pre-programmed scripts; users will feel like they are actually talking with someone who knows what they are doing when interacting with this helpful assistant!
Benefits of Chat GPT for Microsoft 365 Users and Admins
Here are some ways in which Chat GPT AI Chatbot can help Microsoft 365 users and admins save time and improve their productivity:
Providing guidance and answering questions:
Chat GPT AI Chatbot can answer questions or queries about Microsoft 365 applications like Excel, Word, PowerPoint, and Teams. Users can ask questions or queries like how to use specific features, how to troubleshoot issues, and use the interface of any Microsoft 365 application or web application. Chat GPT Chatbot can provide accurate and timely responses, saving the user time and effort in searching for answers on their own.
Automating tasks:
Chat GPT AI Chatbot can help you automate tasks, such as creating reports or analyzing data in Excel. By providing specific instructions, Chat GPT Chatbot can provide you the formula for particular tasks for excel, freeing up time for the user to focus on more complex tasks.
Enhancing collaboration:
Microsoft has integrated Chat GPT with Teams premium. Chat GPT AI Chatbot can help collaboration between team members in Microsoft Teams. It can schedule meetings, create virtual appointments, and host events with seamless registration and customized experiences. It can save users time managing their Teams workspace and help them stay organized.
Providing insights:
Chat GPT can help you analyze data in Excel by providing automated formulas. It allows users to create visually appealing charts and graphs to communicate insights effectively. It also saves users time analyzing data and helps them make informed decisions based on the insights.
Improving productivity:
Chat GPT AI Chatbot can suggest shortcuts and tips on how to increase productivity and efficiency when using Microsoft 365 applications. It saves users time learning new features and helps them work more efficiently. So If you have not signed up for the Chat GPT, do it now.
Troubleshooting:
Chat GPT AI can help users troubleshoot issues in Microsoft 365 applications. Users can ask questions about how to solve specific problems or errors, and Chat GPT can provide accurate and timely responses. It saves the users and sysadmin time searching for solutions to the problem.
Learning:
Users can learn new features and functions in Microsoft 365 applications by just searching on Chat GPT. Chat GPT AI can help users get up to speed on new features and functions quickly by answering questions and providing guidance. It helps users work more efficiently and effectively by providing accurate information and solutions.
How Chat GPT AI Solves Microsoft 365 Related Queries:
Chat GPT provides accurate information on what the user asks or his query. Analyzing user query, it gives an exact solution within no time. You can see some examples of the questions I asked related to Microsoft 365:
I asked Chat GPT to get all the user details by typing the query "Get all the users available in your office 365 tenant using Windows PowerShell," which gave me an accurate answer.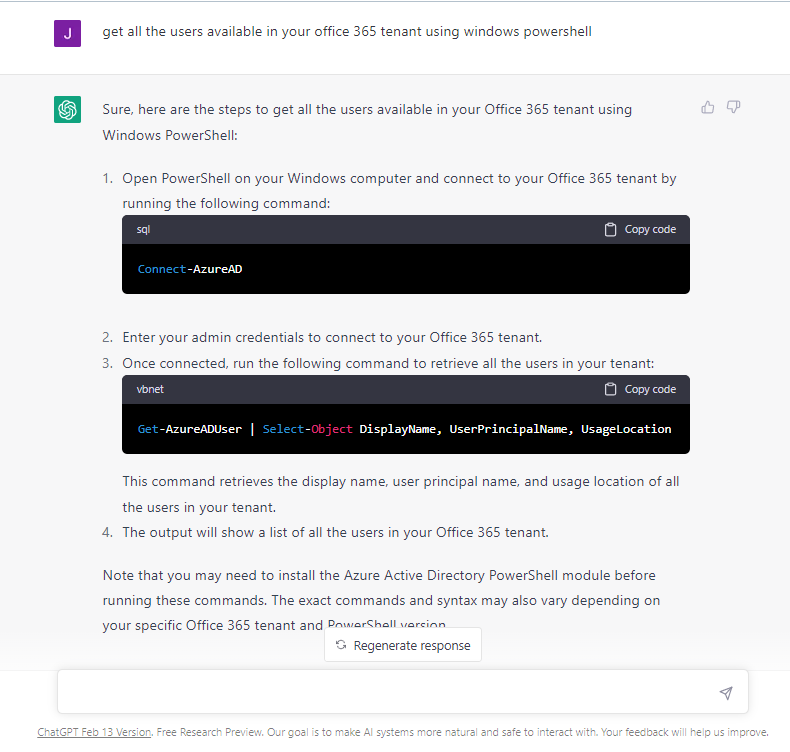 I asked Chat GPT "how to create users in Microsoft 365 account," You can see the solution's correctness below.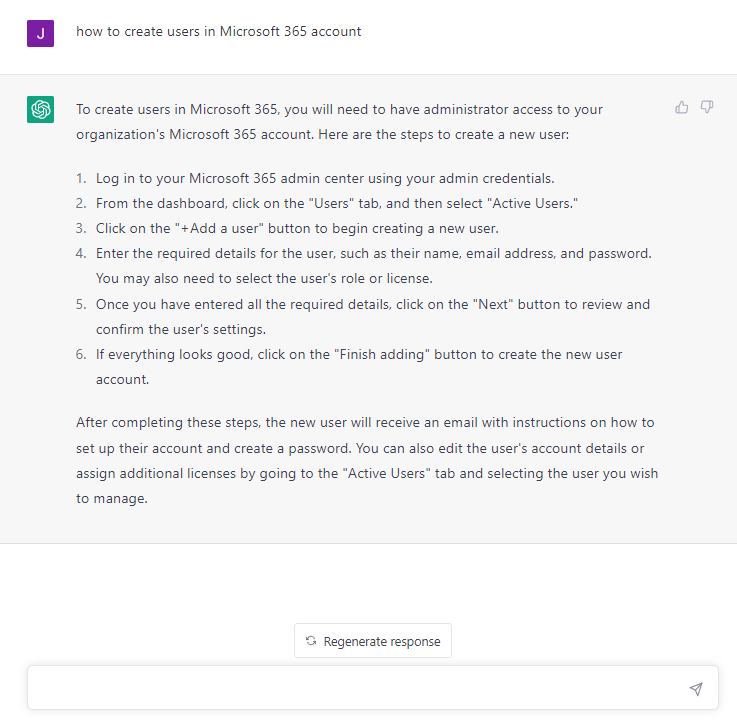 So, in my opinion, Chat GPT is beneficial whether you are looking for information or the solution to any problem. It can provide you with the correct answer related to your query. Maybe sometimes it can provide you with the wrong pieces of information also. But it is so far improved since it was launched. I asked Chat GPT for Office 365 Tenant to Tenant Migration Procedure, but its result is unsatisfactory. You can see the picture below for the answer it provided me when searching Office 365 Tenant to Tenant Migration Procedure.
It provides the related information but not a complete procedure like the steps needed to perform tenant migration. However, if you are willing to learn Tenant migration in Office 365, visit Office 365 Tenant to Tenant Migration.
Conclusion:
Chat GPT AI Chatbot can be a valuable time saver for Microsoft 365 users and admins in solving their queries about Microsoft 365 features and functions. Chat GPT AI Chatbot can help users save time, increase efficiency, and achieve their goals by providing guidance, automating tasks, enhancing collaboration, providing insights, and improving productivity. With the increasing adoption of AI-powered virtual assistants, Chat GPT AI Chatbot is poised to become an essential tool for Microsoft 365 users and admins.