Cannot open your default email folder error in MS Outlook
One of the most popular email programs is MS Outlook from Microsoft, which is available for Windows and Mac users. There are some disadvantages along with many benefits. Many millions of Outlook users have faced error issues in a popup window that appears suddenly on their screens. One of them is the error "Cannot open your default email folder." is also.
There are explanations for why you are having this problem. Outlook operating in compatibility mode or outlook data file getting corrupted is a possible reason behind the same MS Outlook error. You should take the following actions to identify the underlying problem and look for possible solutions.
Reason 1: If the Outlook Data File Corrupted
Outlook creates two outlook data files, OST and PST. An OST data file is created by default when a user creates an Exchange, IMAP, or Outlook 365 account. Similarly, a PST file is created when a user configures a POP email account in Outlook.
The primary difference between OST and PST is that the OST requires authentication via a connected MAPI profile and is encrypted with a MAPEntryID GUID key. The OST file cannot thus be opened or imported into another Outlook profile. On the other hand, PST can be accessed with any Outlook profile and is importable.
Why does the OST file get corrupted, and how to repair OST data file?
Offline Storage Tables, or OST files, store copies of the original mailbox from the Exchange Server. This copy synchronizes on a regular basis. As a result, it allows the account holder to access the mailbox whenever needed, even when there is no server connectivity. The Outlook OST emails might become unavailable for many reasons:
Removal of a file or a folder from an Exchange folder
virus or malware attacks.
Failure to synchronize as a result of an unexpected shutdown.
Due to internal errors, Outlook keeps crashing.
The hard disc on which the OST file is stored has bad sectors.
Alterations to the OST file for Outlook's internal structure.
Add-in-related problems are damaging the OST file.
If the Outlook error occurs due to corrupt OST, Follow the steps given below:
Open Control Panel>Mail>Show profiles. It will open Show Profiles window.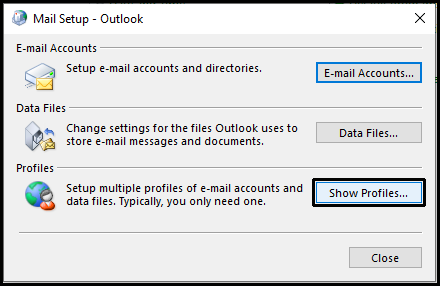 Select outdated profile and click on Remove to delete outdated or inactive profiles.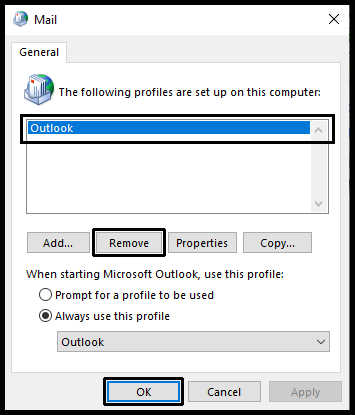 Make a new OST file.
If the problem still exists, we advise you to make a new Outlook profile.
Why does the PST file get corrupted, and how to repair PST data file?
If you have a PST file open in Outlook when the application crashes, it may get corrupted. It may occur if Windows or Outlook crashes or the computer is turned off without closing Outlook and Windows. The steps below must be followed to repair your corrupt PST:
Open "Local Disk (C:)" and Type "Scanpst.exe" in the search box in the upper right corner. Hit Enter.

It will launch the "Microsoft Outlook Inbox Repair" setup. Browse the Outlook data file and Click Start.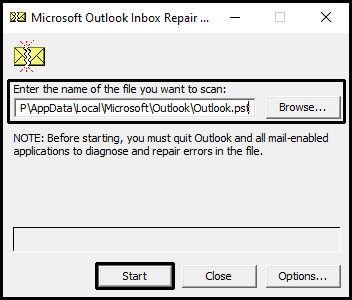 The scanning process will begin and may take some time, depending on the number of files and errors.
After completing the scan process. It will ask for repair so Click on Repair.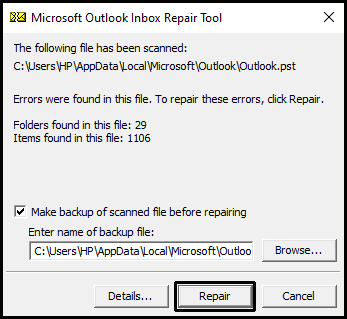 Finally, Repair Complete window popup. and the .PST file has been properly fixed.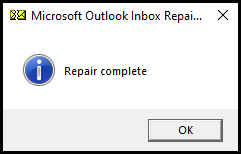 Once done and the problem continues, it is most likely caused by Outlook running in compatibility mode.
Reason 2: If Outlook is running in compatibility mode.
The purpose of compatibility mode is to make the software operate more efficiently on an older operating system. You can disable Outlook's compatibility mode to see if it resolves the "Cannot open your default email folder." error. To solve the error, follow the below steps:
Navigate to C:\Program Files (x86)\Microsoft Office\Office XX\Outlook.exe.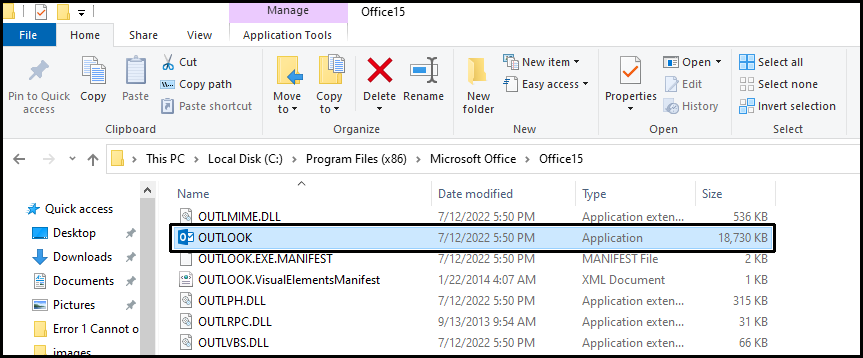 Right-click on Outlook.exe and navigate to Properties>Compatibility tab.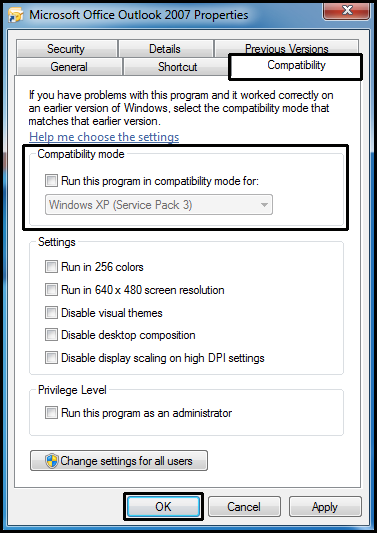 Uncheck the Run this program in compatibility mode box, click Apply, and OK.
Final Verdict:
The above blog will help you to fix "Cannot open your default email folder." I think I was able to help you. If you still face any problems, please leave a message in the comment box below. To read about more errors Click Here.