How to Fix Out of Gmail Storage & Free up Space in Gmail?
Gmail is a globally used emailing service provided by Google INC. Google is currently providing "15 gigs" free space, which is not only for Gmail but also includes other Google services like Google Drive, Google Photos, and videos. Getting 15 GB of free space from Google Drive is still a good deal compared to Box's 10GB and Dropbox's 2GB, which may be sufficient storage for personal or limited use, not for business uses.
Backing up photos and videos regularly from your phone device to Google also consumes your Gmail storage space as well. Due to this size limitation, most users start experiencing "Out of Gmail storage" errors and find ways to free up space in Gmail so they can resume using Gmail for free. Here in this blog, we will show you a few simple hacks to clear and free up space in Gmail without upgrading to the paid plan.
How to Search and Check my Gmail storage space?
You can quickly check how much storage you have already consumed in Gmail, Drive, and photos. Login to your Gmail account and scroll down to the bottom. On the bottom page, you can check how much storage you have already used out of the 15 GB storage.

If you want to check the storage details to ensure which Google Service is consuming how much storage then click on the Google One link. You can only check the storage details when you are logged in to your Google account.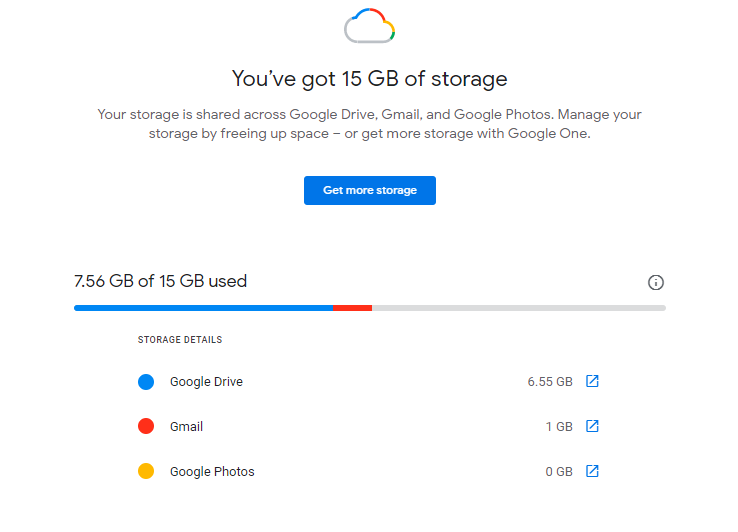 You will also start getting warning notifications like Out of Gmail storage, Your Gmail account is almost full, Google account has not had enough space, etc.
Tips to Clear "Out of Gmail Storage" Warning
Regularly delete old emails from your Gmail inbox that are not required anymore. Every time we forget to delete old emails from Gmail, we get the error "Out of Gmail Storage" when Gmail storage gets full.
To find easily old emails type "older_than:3y" and enter, the emails older than 3 years will be shown on your screen.
Delete "emails with big attachments"
As emails with big attachments take up huge space because of the attachment size. So it is always better to find and delete those emails who having big attachments.
The easy way to find emails with large attachments is:
Open your Gmail account.
Type has:attachment larger:10M in Gmail search and enter.
The emails with large attachments will be shown to you. Delete unnecessary emails from it.
Note:  you can type 15M or any number instead of 10M.
Delete files from Google Drive
Sometimes we forgot to delete Google Drive files that are not required anymore. Large-size files take up huge space in Google Drive. Find and delete those files from your Google Drive account.
Many emails end up in our Spam inbox. Gmail moves some emails to the spam inbox that does have spam links or spam content. Open the Spam folder in your Gmail account and empty Spam Folder.
When we delete emails from Gmail they end up lying in the Trash folder. After 30 days Gmail automatically deletes them from the server. I suggest you do it manually and clean up some storage space.
If you do not need your old emails, attachments, photos, etc. in your Google Account. You can delete complete Gmail data, Google Drive Data, and Google Photo data. It will empty the whole storage.
Use Another Account for Google Drive
As Google drive takes a large part of the Storage Space in Google because it stores multiple files and data. You can create another Gmail account and move your primary Google Drive data into a separate account to save huge space.
By backing up your Gmail emails and then deleting them from Gmail
Download and Install Microsoft Office into your system. Open MS Outlook, and configure MS Outlook using your Gmail account through IMAP or POP3 protocol. It will sync all your Gmail data from the server and store it in OST or PST file. Find the file location, copy and save it to another location for future need. After that delete data from your Gmail account
Backup Using Google Takeout
Take a backup of your Gmail emails and other Google data using Google Takeout. It is a free service that Google provides for its users to take backup of their data. You can take backup through Google Takeout and save the backup file on your hard drive for later use. Check this guide to know "How to backup Gmail emails through Google Takeout".
Conclusion:
In this Guide, we learned some tips to not getting "Out of Gmail Storage" errors. As many people use Gmail as their email client because it is very popular and provides data security. Through the help of these hacks and tricks, you can see the Storage space of your Google account, and using these can clean up storage space in Gmail.