How to Repair/Fix PST File Using ScanPST.exe Tool for free?
Microsoft Outlook is one of the most used email client applications. Personal storage data (PST) is one of the outlook data file formats used to store mailbox data, such as contact, email folders, calendar, contact, notes, etc. Users occasionally experience problems with the PST file due to different unanticipated mistakes. For instance, when a PST file grows too large or, due to system crashes, it may become corrupt. In this blog we will learn how to repair or fix PST file manually.
What is the Inbox repair tool, and where can you find it?
An In-built tool in Microsoft Outlook called the Inbox Repair Tool (scanpst.exe) can assist you in identifying and fixing problems with your Outlook data files, including PST (Personal Storage Table) and OST (Offline Storage Table) files.
Location of the scanPST.exe tool
The tool is usually located in the following directory:
Outlook 2007: C:\ Program Files (x86)\Microsoft Office\Office 12
Outlook 2010: C:\ Program Files (x86)\Microsoft Office\Office 14
Outlook 2013: C:\ Program Files (x86)\Microsoft Office\Office 15
Outlook 2016: C:\ Program Files (x86)\Microsoft Office\Office 16
Outlook 2019: C:\ Program Files (x86)\Microsoft Office\Office 16
Need for Inbox Repair Tool – Some cases
You May need to use Inbox Repair Tool in the following situations:
Repair PST File Using Scan PST.exe Tool
Double-click on the scanpst.exe file to launch the Inbox Repair Tool.
In the Inbox Repair Tool, click the "Browse" button and select the PST file you want to repair.
Click the "Start" button to begin the scan process.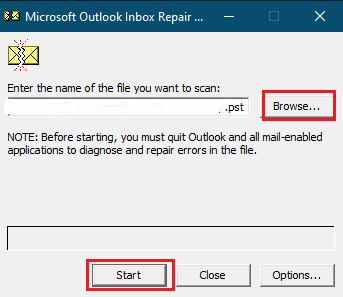 If the scan detects any errors in the PST file, click on the "Repair" button to fix them.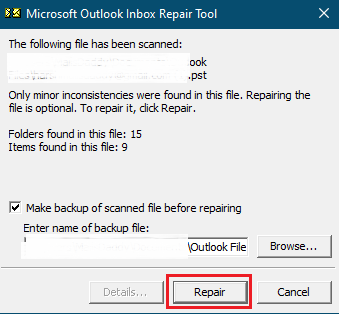 Once the repair process is complete, open Outlook and check if the issues have been resolved.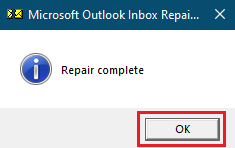 When do we need a third-party application to recover PST files?
It's important to note that the scanpst.exe tool may be unable to fix all types of errors in a PST file. Sometimes, you may need a third-party PST repair tool to recover data from a severely damaged PST file.
Here are some Third-Party trusted tools you may use.
Users can fix corrupted or damaged PST files with easy-to-use MailsDaddy Outlook recovery software. All Outlook issues are fixed by the PST repair application, which also restores soft deleted emails, contacts, tasks, and calendars, among other items. To read complete details and
Softaken Outlook PST Repair
You can also use Softaken Outlook PST converter for Outlook PST repair. It can provide you easy interface with lots of benefits. It also recovers complete data from the corrupted PST file. To read more feature, visit their Official Website.
DataNumen Outlook Repair
The best Outlook repair and recovery solution available is DataNumen Outlook Repair. It can minimize the damage caused by file corruption by fixing corrupt Outlook PST files and recovering as many emails, contacts, calendar items, appointments, tasks, notes, journals, and other objects as possible.
Conclusion:
This article discusses how to repair/fix PST file or OST file using scanpst.exe. ScanPST.exe is a free tool provided by Microsoft to repair PST/OST file and it is also known as Outlook Inbox Repair Tool. We have also enclose some third party applications if manual method is not effective for you.