How to Perform Microsoft 365 Recovery: Complete Guide
There are lots of individuals and professionals who store their organization's data in Microsoft 365, which provides a lot of security or protection to its users. However, despite its high security and convenient accessibility, the risk remains due to many cyber-attacks, and malware attacks. According to some reports, almost all organizations use Microsoft 365 for their daily work, so it's important to have a Microsoft 365 recovery plan for your confidential data. We teach the different ways to restore Microsoft 365 data through this article.
Before discussing the ways to restore 365, first, let's discuss the why we need to perform recovery.
Why Microsoft 365 Recovery is important?
There are many reasons why we need to restore Microsoft 365, let's discuss some of them.
To preserve data loss conditions – Software glitches, hardware failure, and malicious actions can lead to a reason for data loss, so, to restore 365 data can help us to recover lost files, emails, contacts, etc.
Legal and Compliance requirements – Many organizations like health care, and legal departments need to retain and protect their data because they may need that data at any time.
Complications in Business due to data loss – Sometimes data loss affects business operations and time. It affects customer service and revenue. With the help of restoring data, you can reduce the negative effects on your business.
Restore 365 Exchange Data Manually
If you want to recover or restore your data, then first check your deleted items folder.
Your first step would be to check for deleted items or trash folders in your Microsoft 365 exchange data or by clicking on move>inbox you can recover it into the inbox.
Recover Litigation Hold items through eDiscovery
Open https://compliance.microsoft.com/ to enter into the Microsoft 365 Compliance center.
In Compliance, scroll down, click on the Content search and create a new search. Fill all the required details for the search.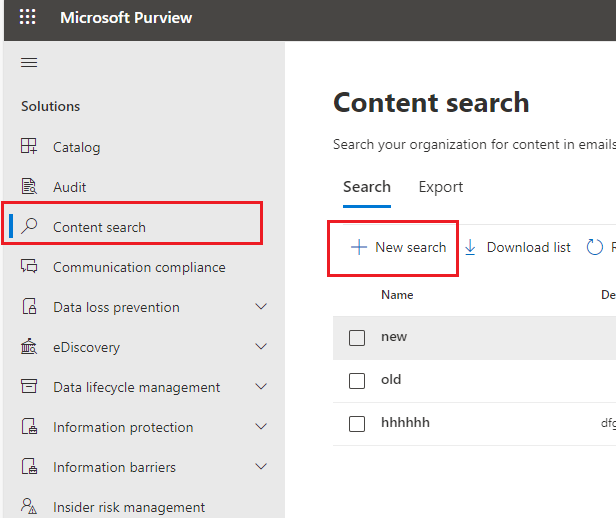 Now, after creating your new content search, Open on it and start your Export process by clicking on Export.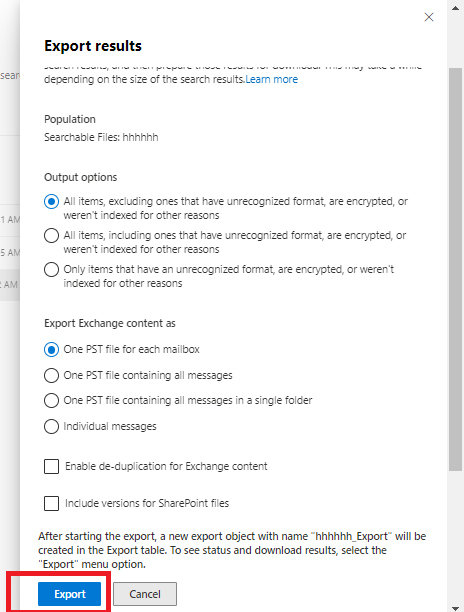 Recover Outlook Emails Using Archival or Retention Policy?
If you have set the retention policy earlier and want to recover your Microsoft 365 data, follow the below procedure.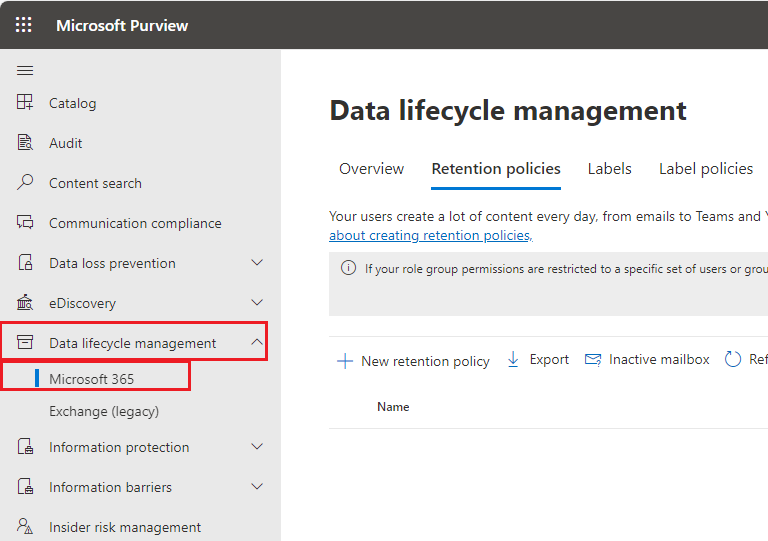 Here, you will see the Tab for Archive, click on that and download the data for the users.
I hope you understand this whole process of doing recovery with an archive or retention policy. You can visit this guide on retention policies working for more details.
Note: You will only see the archive option if you have set the retention policy earlier.
Restore 365 OneDrive Data
When you delete your folder or emails from OneDrive then it will automatically store into the recycling bin. But if the folder is not there then it is definitely gone into the second-stage recycling bin.
After 93 days the folder is automatically deleted from the recycling bin if your administration has not changed the timeframe.
Also, you can recover SharePoint Sites. For this check this guide on How to Recover or Restore SharePoint Site in Office 365?
Limitations of Microsoft 365 Recovery Options
By using these options, you cannot restore your data easily or quickly, Microsoft 365 recovery options don't support bulk data recovery. We mentioned some of their limitations.
Only 30 days of Microsoft 365 exchange data and 14 days of recoverable items can be recovered if you haven't set a retention policy.
After 93 days you cannot recover your Share Point or OneDrive deleted data if you have not placed your data on litigation hold or your Microsoft 365 retention/archive policy is not active.
For restoring data, taking up expensive storage space can cost high money.
Restoring data from the retention archives is time consuming and typical also.
Conclusion:
Lots of users are looking for this process to restore their Microsoft 365 data. In this article, we discussed why we need to restore MS 365 data and the ways to restore it. We talked about the manual and other ways to restore Microsoft 365 data including OneDrive. Manual processes are always time consuming and requires knowledge also.